SONDHEIM'S ASSASSINS AT THE HELIX THEATRE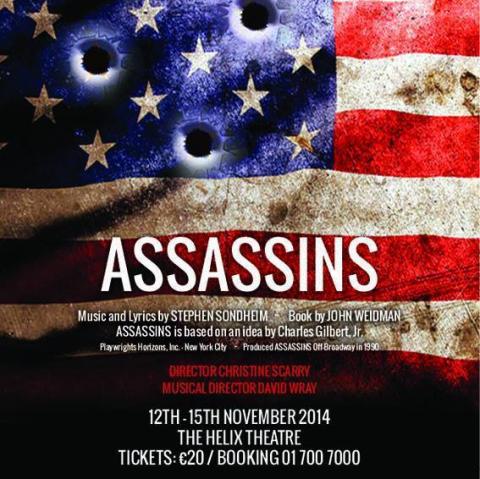 A magical week at The Helix with Sondheim's ASSASSINS. It was a dark pleasure and joy ... sincere thanks to our fantastic audiences who supported us all week. Attention has been paid!
Featuring an ensemble cast including Ranae Von Meding, Kathy Kelly, Pat McElwain, Brian O'Gorman, David Latham, Chris Currid, Maurice Treacy, Nick Sheridan and Ian Tighe as the assassins, with Adam O'Brien as the Balladeer, it will explode onto the Helix's stage on November 12th. Tickets are on sale now from the Helix Box office 01 7007000.
This surreal show explores the darker side of American history. "Life, liberty and the pursuit of happiness", the Declaration of Independence promises this for all people. Assassins tells the tale of nine men and women who have missed a crucial element of the promise though - the pursuit of happiness. In their own words, they will tell you that "everybody's got the right to be happy". Denied their rights (as they perceive them) and feeling dissatisfied with the American Dream, these disenfranchised individuals attempt to take destiny into their own hands, and in doing so, insert themselves into the annals of history.