CHRISTINE'S SOFA SESSIONS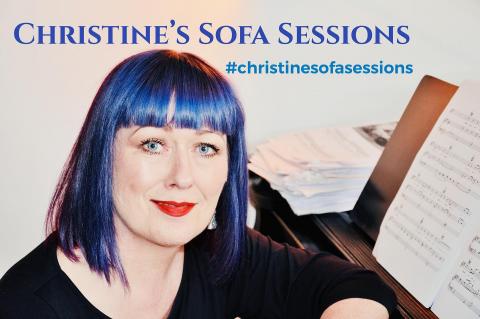 Christine's Sofa Sessions is a free online singing event that brings people together in their own homes to create joy, creativity and spark human connection. Each session is a half-hour long, during which time everyone - all together - sings the Fab Five – a selection of five songs for each session.
We will theme some of the sessions – 70s, 80s, Musical Theatre, Disney, Golden Oldies, Irish … you can send your requests and we'll do our best … there'll be something for everyone, we hope!
Technical limitations mean you can see everyone else, but will only hear Christine leading the singing and playing the piano for each song. So, sing as if no-one is listening 'cos they won't be!
But we can have a virtual coffee-break, during which time we can chat, have a bit of craic together, and maybe share a photo or video on social media using the hashtag #christinesofasessions
Together we're stronger – let's all join to sing our way through to the light.
#keeppositive #keepcalm #keepsinging
See Facebook Page for details on HOW TO JOIN