FIND YOUR WAY HOME GOES TO AMERICA!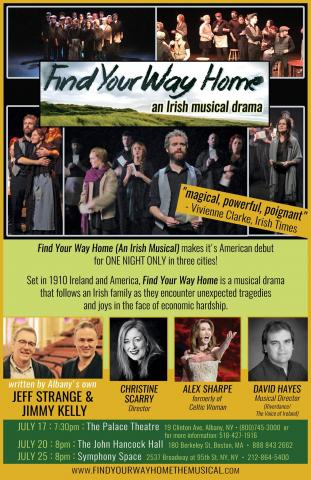 Following its hugely successful performance in Dublin last October, FIND YOUR WAY HOME will make its American début at The Palace Theatre, Albany on 17th July, the John Hancock Theatre, Boston on 20th July and Symphony Space, Broadway NYC on 25th July, 2017.
Leading the Irish cast is Alex Sharpe (Celtic Woman/Les Misérables), under the direction of Christine Scarry and musical direction by David Hayes.
Written by American duo, James Kelly and Jeff Strange, "Find Your Way Home" is a new epic musical drama that discovers the fate of family and friends in a coastal Irish town as they struggle with economic travails and contemplate the lure of the United States. Set in the Ireland and America of 1910, life, death and love are all front and centre in the musical, which features original music blending the Irish folk idiom with traditional musical theatre.